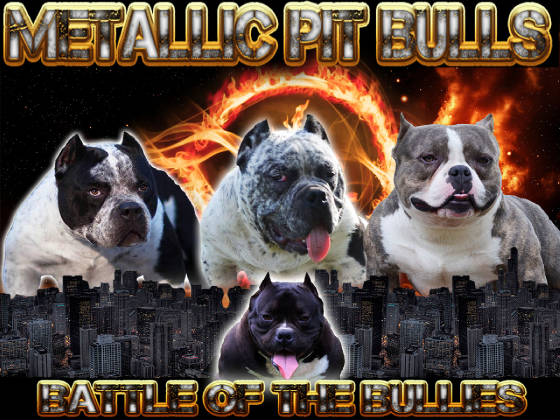 Here at Metallic Pit Bulls our bloodlines consist of Gotti Line, Daxline, Miagi, Plex,Mikelands lines and also Goldenboylines and Kingdom.. This is some of the best bloodlines to be put together. Here at MPBK were doing our best to put the best out on the table for everyone to have. Please take a look around and let us know what you think. Thanks you for stoping buy and looking around.
WHEN YOU CALL 386-983-9437 IF IT TELLS YOU YOU HAVE THE WRONG NUMBER OR SOMETHING LIKE THAT, YOU DONT ITS THE RIGHT NUMBER AND YES IT WORKS JUST TEXT ME OR SHOOT ME A E-MAIL ILL GET BACK TO YOU ASAP. THANKS.
We are located in Interlachen Florida, We provide the best bullies here in Florida. We update our site all the time so keep checking back for new updates. Our bullies are friendly and loving and bad ass looking. Thank You.
LAST UPDATED 01-26-2016
We are a very honest small kennel. we dont have a whole lot of dogs like most breeders. We spend a lot of time with each bully and there puppies.Here at Metallic Pit Bulls we like to let our kids play and spend as much time with them as posible so when people get there puppies they are use to kids and not be compleat idiots. Our bully's have manners. Thanks for reading and looking around.